Active Member
Premium Member
Joined

Jun 26, 2007
Messages

26,190
Reaction score

6
Points

38
Age

60
At the height of the Blu-ray and HD DVD format war, if you wanted to go high-definition the most logical way was to buy a laptop.
This was because manufacturers included them in high-end models before releasing dedicated players.
At first, this meant there was something of a price premium to be paid.
But now the format war is over we're starting to see the drives roll out across all ranges.
And prices are falling fast. We've brought together the best of the latest crop of Blu-ray laptops, all of them offering great power at an unbelievable price.
*
1. Acer Aspire 8920G
*
When it comes to the Full HD multimedia experience, there is only one laptop at the moment that truly fits the bill and that is the Acer Aspire 8920.
This is the first laptop to be released to sport a true Full HD display.
Widescreen laptops have traditionally had a 16:10 aspect ratio but with 18.4-inch of the Aspire 8920 delivers 16:9 aspect ratio and native resolution of 1920 x 1080 pixel, making it fully optimise for HD playback.
Six integrated speakers backed by Dolby Home Theater technology and a built-in TV tuner round out the main multimedia hardware and Acer has added its own CineDash control panel to the front of the laptop that gives you touch-sensitive control of your movies and music.
A Blu-ray drive is built in as standard across the high-end range and the laptop even comes with a host of Acer applications to make the most of the high-def drive.
When it comes to performance, this is as powerful a machine as you'll ever need for editing and copying high-def footage to disc.
That's because the dual-core processor is Intel's fastest to date and with 4GB of memory you won't need to wait for applications to load.
*
PROCESSOR: Intel Core 2 Duo T9300 (2.5GHz)
MEMORY: 4096MB
HARD DRIVE: 2 x 320GB
SCREEN: 18.4-inch Super-TFT (1920 x 1080 pixels)
SIZE/WEIGHT: 441 x 300 x 44mm / 4.1kg
TYPICAL Price: £1400 (inc. VAT)
URL:
www.acer.co.uk
*
2. ASUS M50
*
If you're looking for something a little more portable, this semi-portable laptop from Asus weighs a reasonable 2.8kg.
That's impressive considering it sports a 15.4-inch display.
It's not quite designed for Full HD, as it only delivers an image output of 1680 x 1050 pixels but it's great for localised HD footage.
Along with the built-in Blu-ray drive, multimedia is high on the hit list for this machine.
Sporting high quality Altec Lansing speakers sound quality is as good as you'll find only laptop.
The speakers are backed up by Dolby's Home Theatre audio processing, so movies sound, as well as look, at their best.
Then there is the dual-function touchpad.Standard navigation is a given but the touchpad also doubles as a touch-sensitive media control desk that glows up as you use them, giving you touch control over all your media.
If you're looking to edit your own HD footage, the inclusion of Nvidia's latest GeForce Nvidia GeForce 9500M GS is a Godsend.
With 256MB of it's own memory, it puts less stress is placed on the main processor, so saving you time as well as battery life when working on the move.
*
PROCESSOR: Intel Core 2 Duo T8100 (2.1GHz)
MEMORY: 2048MB
HARD DRIVE: 320GB
SCREEN: 15.4-inch Super-TFT (1680 x 1050 pixels)
SIZE/WEIGHT: 375 x 270 x 44mm / 2.8kg
TYPICAL PRICE: £1149 (inc. VAT)
URL:
www.uk.asus.com
*
3. DELL XPS M1530
*
At one time, the XPS range was Dell's gaming laptop but it is now seen as its premium brand with a high-gloss finish and cutting-edge components.
Dell was an early adopter of Blu-ray but has always offered is as an upgrade and not a standard feature.
However, the high-end M1530 now comes with a slim, slot-loading Blu-ray drive as part of the base package.
The 15.4-inch Super-TFT screen has a bright 220nits lamp so is great for high-definition footage.
However, with a resolution of 1200 x 800 pixels it falls short of being Full HD compatible. That said, you'll find an HDMI port is fitted as standard, so you can run movies from the laptop to an external screen.
The screen size obviously adds to the weight but at 2.7kg, it isn't too heavy and we managed to get over three hours from our test machine.
A big screen does mean there is plenty of room on the main body for a good-sized keyboard and the XPS has one of the most comfortable keyboards on a laptop of this size.
When it comes to performance this machine packs a punch, as it comes with an Intel Core 2 Duo Processor T7250.
And if you want to edit video or simply play games, the Nvidia GeForce Go 8600M GT graphics card really helps things really fly.
Read our full review
*
PROCESSOR: Intel Core 2 Duo T8100 (2.1GHz)
MEMORY: 2048MB
HARD DRIVE: 320GB
SCREEN: 15.4-inch Super-TFT (1280 x 800 pixels)
SIZE/WEIGHT: 358 x 245 x 40mm / 2.7kg
Price: £999 (inc. VAT)
URL:
www.dell.co.uk
*
4. Sony VAIO VGN-AR61ZU
*
For a long time, Sony was the only laptop manufacturer offering Blu-ray writers in the UK.
Even then, it was only in their very high-end machines.
While the drive has filtered down to a range of price points it really makes an impact in the VAIO VGN-AR61ZU, it's flagship desktop replacement.
This is no slim and trim portable, being 4kg of muscle and powerhouse processing.
Designed to be the ultimate desktop replacement for the home or business user, you'll find everything you need to make the most of high-definition media creation and movies, either watching them or creating them.
The 17-inch Super-TFT, or 'X-black' as Sony likes to call it, delivers great HD image quality but if it's not big enough for you, the HDMI port allows you to digitally connect to external sources.
With a built-in digital TV tuner and its high-def screen, this is the ultimate machine for multimedia purposes. What's more, the Blu-ray drive is read/write compatible, so you can easily back-up HD discs.
If you want to store your files on the laptop itself, the VAIO packs in twin 250GB drives, which you can either use as one large drive or set-up so the second drive backs up files from the first - perfect for archiving your HD movies.
PROCESSOR: Intel Core 2 Duo T7700 (2.4GHz)
MEMORY: 4096MB RAM
HARD DRIVE: 2 x 250GB
SCREEN: 17-inch Super-TFT (1920 x 1200 pixels)
SIZE/WEIGHT: 416 x 300 x 34mm / 4kg
TYPICAL PRICE £1799 (inc. VAT)
URL:
www.sonystyle.co.uk
*
5. Fujitsu Siemens AMILO Xi 2550
*
Fujitsu Siemens may not be the most familiar name here but it's one of the Top Five laptop manufacturers in the UK and has an impressive range of machines.
The Amilo range is intended for home users and this high-end laptop has everything the busy household needs.
It's a desktop replacement, so the 4kg chassis isn't designed for a life on the road.
The big case means there is plenty of room for powerhouse features, such as the 17-inch Super-TFT screen that packs a 1920 x 1200-pixel screen so is perfect for HD movies.
The only real downside of this laptop is the Blu-ray drive being read only, which means while you'll be able to use it for watching HD movies, or installing software from high-capacity discs, you won't be able to create your own.
So, if you're thinking of investing in a high-def camcorder, this isn't really the machine for you.
On the plus side, the rest of the feature set is impressive.
With HDMI a built-in webcam and even stereo speakers and separate sub-woofer, which really helps improve the overall sound quality when watching high-def movies.
Read our full review
PROCESSOR: Intel Core 2 Duo T8100 (2.1GHz)
MEMORY: 2048MB RAM
HARD DRIVE: 2 x 250GB
SCREEN: 17-inch Super-TFT (1029 x 1200 pixels)
SIZE/WEIGHT: 408 x 291 x 40mm / 4kg
TYPICAL PRICE: £985 (inc. VAT)
URL:
www.fujitsu-siemens.co.uk
*
PC HARDWARE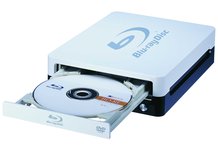 Laptops may have been the first computers to sport Blu-ray drives but it didn't take manufacturers long to start shipping internal drives for desktop PCs.
The main selling point for these devices isn't just about watching movies on your desktop PC, it's more about storage - being able to backup your hard drive easier and faster than ever before.
The LG GGW-H20L connects to your system using a standard SATA connection, so you can swap out your old CD-drive with the minimum of fuss.
At £199 (inc. VAT) this isn't the cheapest drive on the market but it's one of the more versatile, as it supports Blu-ray Disc Rewriter and HD DVD Rom Drive, so can read both HD formats, as well as being backwards compatible with your old CDs and DVDs.
Pricing has always been an issue and for the most part has stopped PC builders from adding drives to units.
This has resulted in two versions of drive on offer, those that simply support playback.
That's great if you have a high-definition screen or your PC has HDMI to an HD screen, or the more expensive drives that support playback as well as write capabilities.
The Lite-On BD-ROM DX-4O1S is a budget external unit that is simply a player. While this means you won't be able to write HD discs, at £125 (inc. VAT) it's a bargain unit it also doubles as a DVD and CD-R writer.
Using USB as a connection, it's great for a PC or a laptop and supports both single-disc and dual-disc playback of Blu-ray.
More...