Active Member
Premium Member
Joined

Jun 26, 2007
Messages

26,190
Reaction score

6
Points

38
Age

61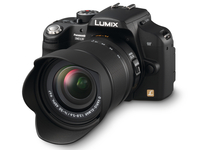 If you feel like your old compact camera is no longer doing the job you want, it might be time to make the step up to a DSLR.
Generally speaking, they're far better cameras than compacts - but that extra quality comes at a price.
Digital SLRs offer a whole new way of shooting compared to compact cameras. They give you a lot more freedom in the way you photograph.
The most noticeable thing about a DSLR is the ability to change the lens for versatility over composition. A host of settings such as shutter speed, aperture and focusing can also be manually adjusted for complete creativity.
The digital SLRs in this round-up start at £300 and go as high as ten times that. With that in mind, there's something for everyone here.
*
*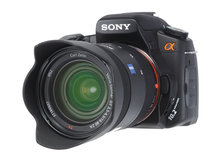 Of Sony's range of DSLR cameras, the A200 is certainly the most modestly priced.
It's also stunningly good value at £300 - which is £150 cheaper than when it launched.
For a 10-megapixel DSLR with so many features, you could be forgiven for being a little suspicious, infact.
But the camera largely stands up as a good entry level product. Sure the 18-70mm kit lens is distinctly non-phenomenal, but that's the beauty of DSLRs - you can buy new lenses after you've bought the body of the camera.
If you were to do just that - you will find the A200 standing up to be counted amongst cameras with much higher retail prices.
Overall, the A200 is a pretty decent camera, but it falls down in a number of areas which is a shame.
The standard lens isn't good enough, the control layout's not quite straightforward enough, and the finish isn't quite elegant enough.
However, for a newcomer to the digital SLR market, you could do a lot worse than the Sony A200. It offers great value, a beautiful LCD display and plenty of extra features. Read our full review
*
*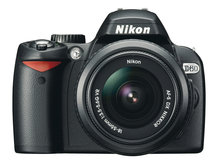 The 10.2MP Nikon D60 is a fantastic entry-level DSLR camera. It offers a raft of features and takes some stunning photographs. And get it doesn't cost the Earth and it's fairly easy to use, too.
One of the D60's strongest points is its ability to edit photos after you've taken them. Most DSLR cameras offer this option, but considering the price, this one goes the extra mile.
In Playback mode it's possible to carry out basic in-camera image optimisation and enhancement.
What's more, if you shoot RAW files you can process these in-camera too, changing some of the camera settings and generating a second, JPEG version of the image.
Alternatively, you can process JPEGs on your computer using the supplied View NX image browser.
This only offers a handful of RAW conversion options, but it's still useful.
For beginners, the interface is both clear and attractive, but for more experienced users it may prove irritating. First, you need to press an 'info' button to make the screen display interactive, and then use the navigational controller to highlight the option you want to change.
Ultimately, if you're a seasoned DSLR photographer, the D60 is not going to impress hugely.
But if you're new to the concept of wielding a powerful camera to take professional-quality photos, the D60 is an absolute bargain. Read our full review
*
*
Canon has fantastic reputation in this market, and there's one main reason for that: it makes great cameras.
Canon made a bit of a splash in 2007 by releasing the much-mooted EOS 400D which turned out to be a brilliant DSLR for a bargain price.
The Canon EOS 450D is a step up from there, and with it comes a bevy of new features and settings. Sure, all the classic Canon hallmarks are there, but the improvements have made the 450D a better camera.
It handles brilliantly; it feels natural in your hands and the number of features, settings and options available to you is frightening. In fact the feature list is so extensive it might seem a bit intimidating to someone who's never used a DSLR before.
The 450D is also a 12.2MP camera which is a step up from its predecessor and from the Sony A200 and Nikon D60. This increase allows for greater enlargements and finer detail when zooming in and cropping.
Essentially, what the 450D offers is a happy medium between quality and price. It has no large flaws like the two cameras above, but it's price isn't as high as some of the ones below. Read our full review
*
*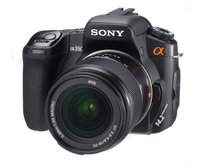 Like the Canon 450D, the Sony A350 is a midrange DSLR available at a relatively modest price.
With the A350, Sony has managed to produce a camera that's relatively inexpensive and yet capable of producing some truly excellent quality images.
As you'd expect from a £500-plus 14MP camera.
However, the downsides are the rather clumsy controls and a rather tacky build quality - the body is made of* low-grade plastic, which means it feels rather cheap.
But if you can find it within yourself to live with the cheap body, an irritating shutter noise and the slightly unintuitive controls, then you're likely to be rewarded.
Because this is a camera that, in the right hands, can shoot some great images. Read our full review
*
*
The Canon EOS 40D is placed firmly in the midfield of the DSLR market.
It's certainly not for beginners, but not really for experienced professionals either.
It's aimed mainly at those people who've used perhaps a low-end DSLR in the past and who are ready to make the jump up to a higher level. But not to seasoned pro's who need a very high-end product.
It's a bit of a niche product then, but it's also an absolutely brilliant one.
While the headline megapixel count is not particularly earth-shattering at 10.1, the 40D is undoubtedly much faster and smarter than its predecessor.
Take the top shutter speed of 1/8000sec, which when combined with a burst rate of 6.5 frames per second in RAW mode, delivers an almost pro-level performance.
In short, amateur wildlife and sports photographers will love it.
For those ready to make the jump, the 40D may even be a preferable alternative to the 450D.
It's more powerful and flexible, while being almost as easy to use, and is sure to have a big effect on the quality of your photographs.
And isn't that what buying a new camera is all about? Read our full review
*
*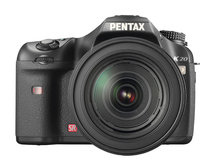 The Pentax K20D really is an incredible camera.
It's lovely to handle and, has a lot of very cool features and ultimately, it takes some gorgeous photographs.
It's a match in almost every sense for the 40D apart from the external design.
In fact, were it not for some decidedly dodgy controls, a slightly confusing interface and an imperfect lens, this camera would have been awarded a five-star rating.
It's ideal for use in low-light conditions because the image processor is fantastic. And the K20D also makes use of the Pentax Shake Reduction system to minimise the amount of noise in these low light shots.
Other cool features include a simple Live View mode, pixel mapping (to identify and eliminate dead pixels), a dynamic range enlargement feature to cut down on blown highlights and a Dust Alert function to check for sensor dust.
The K20D is a great camera packed with great technologies that really work.
The only thing keeping it from a higher score are its controls and interface design. If the K20D's innards were in an EOS 40D body, it would be irresistible. Read our full review
*
*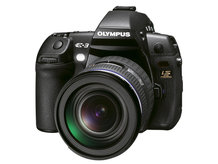 From the moment you pick up the E-3, you feel like you're holding a thoroughly well-built piece of kit.
The camera looks superb and despite being a fairly bulky camera it feels good in the hand.
The build quality is excellent and everything from the switchgear, to the seals that keep out dust and water, are just right.
Our first experience with the E-3 was during a torrential downpour at the camera's launch.
Thankfully, not one of the 40 review models being tested broke down.
That, in itself, is proof enough that Olympus has made a camera that can properly withstand the stresses and strains of a professional use.
This is a photojournalist's camera: tough yet light enough to perform in harsh conditions for both camera and photographer.
At the heart of the E-3 is a new Four-Thirds Panasonic 10MP NMOS image sensor. A Four-Thirds sensor is quite a bit smaller than the APS-C sensors found in most other D-SLRs and yet the E-3's high ISO performance looks very good indeed.
When used with the sublime Zuiko 12-60mm f/2.8-4 SWC zoom lens, the Olympus E-3 makes for a compelling photographic tool that we simply couldn't help falling in love with. Read our full review
*
*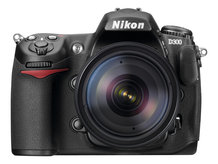 The most notable new feature in the Nikon D300 is the new 12.3-megapixel CMOS sensor.
It's remarkably 'similar' to the Exmor model used in the new Sony Alpha A700.
Of course, adding two million extra pixels isn't going to make much difference to the image quality, but this isn't just a reheated version of the old sensor.
Nikon's swapped from CCD to CMOS technology with a brand-new and advanced sensor design that delivers more than just a few extra pixels.
There's the increased ISO range, for a start.
This runs from ISO 200-3200, with 'extended' settings of ISO 100 and ISO 6400 for extreme lighting conditions.
But the full-frame D3 (reviewed below) at around £3,000 has well and truly pulled the rug from under the D300.
How can you justify spending thousands on DX SLRs and DX lenses when they've become a second-division choice compared with Nikon's FX sensor format?
And for those who don't face this kind of dilemma, who are simply looking to invest in a top-quality APS-C D-SLR.
The Sony Alpha 700 virtually matches the D300's specs and it's much cheaper. Read our full review
*
*
The Canon EOS 1D is a camera that's been designed with today's photographer in mind.
From a smaller, weight-shaving battery to a three-inch LCD, complete with Live View, even the neck strap's undergone a redesign.
Canon has reduced the number of buttons too, and switched operation from a two-button and dial combination to a single button press and dial shift to change key functions.
It makes much more sense.
To be frank, this camera sits out there on its own in the DSLR market, especially in this price bracket. Only the Nikon D3 (reviewed below) can rival it.
The image quality it's capable of is simply stunning. Margarine-smooth images at ISO 100 and 200, low-noise shots at ISO 400 - and eye-openingly good above that.
ISO 1600 is of such an acceptable quality that it opens up new photographic opportunities, delivering action-stopping shutter speeds at low light levels.
The files are of such a beautiful quality to begin with that they hold up well to processing too.
You'll need to shoot RAW to take advantage of the full potential of this camera, but the results are worth it.
This is a brilliant camera - whether you're willing to pay £2400 for it is another story. Read our full review
*
*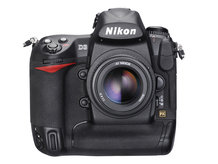 Don't be confused by the price with this one. With many DSLR's, the cheapest price listed is merely the camera body without any extras (lenses etc).
The brilliant Nikon D3 is slightly more pricey than the Canon 1D.
But it comes with the brand-new Nikkor 24-70mm f/2.8 N-series lenses and Nikon's fabulous 14-24mm N-series wide-angle zoom.
The D3 is a full-frame SLR, so that 14mm zoom is so wide you'll be lucky to keep your ears out of the picture.
The 1Ds Mk III has 21 million pixels. The D3 has 12 million pixels, which is not as many but still a lot.
Some clients may demand 21-megapixel files, but how many? You have to weigh this against the D3's better value and certain other capabilities that the Canon doesn't have.
These include the fact that the 1Ds Mk III can shoot at 5fps, while the D3 shoots at 9fps.
The 1Ds Mk III goes from ISO 100-1600, but the D3 goes from ISO 200-6400 (yes, 6400).
Compared with its rivals, the D300 is exceptional at ISO 1600. The D3, though, just blows it away.
In fact, at ISO 6400, the D3 is producing similar image quality to the D300 at ISO 1600. Truly remarkable.
Indeed, the D3 gives you more of everything that's so admirable in the D300.
More colour, less noise, faster frame rates. It's a spectacularly good camera.
So good, in fact, that we have to repeat our only caveat about the D300.
Good as the cheaper model is, we suspect you're always going to be wondering whether the D3 wouldn't have been the better professional buy. Read our full review
More...