Active Member
Premium Member
Joined

Jun 26, 2007
Messages

26,190
Reaction score

6
Points

38
Age

60
The meaning of the term "home page" seems to be in constant flux.
These days it's the page your browser shows when you start it up; usually a branded search tool. Back in the web's equivalent of the stone age it was a bespoke start page, built in static HTML, mixing up biographical information with the owner's favourite links.
Over the years, search engines have become more and more elaborate, evolving into "portals". These were bloated sites that aggregated directories full of content and news, intended to replace the home page as your browser's default destination.
To this day, many ISPs maintain their own portals and re-route your browser to them after installing them on your PC. You don't have to put up with it though.
Personalised web pages made easy
The last few years have seen a new wave of start page providers enabling you to create your own default destinations, packed with content of specific interest to you.
Of course, start page personalisation isn't a new idea. Yahoo! did it back in the late 90s, enabling you to create a portal page displaying custom subjects and Yahoo! tools. The real breakthrough came with the popularisation of RSS (Really Simple Syndication).
RSS is a technology that enables content providers to add headlines to a machine readable "feed" – an XML file that can be frequently updated, but is always found at the same URL.
From Google to iGoogle
The growth of feed-powered start pages has been most noticeable in the last two or three years, following tight on the heels of iGoogle. Leading players such as Netvibes and Pageflakes were both launched in 2005.
iGoogle is a free service open to all Google subscribers allowing you to personalise the search engine's start page with building blocks containing RSS feed-powered headlines.
You sign in with your Google ID and click "Add Stuff" to look through the content - news feeds, to do lists, countdown clocks, quotes, games and tools. Google categorises site feeds for easy browsing – or you can keyword search for specific sites.
When you find what you're after, clicking the 'Add it Now' button places a content block on your iGoogle page. iGoogle and other personal start pages don't confine themselves to simple RSS, however.
The age of the 'widget'
Mini applications, called 'gadgets' in iGoogle and 'widgets' just about everywhere else, use web scripting to provide plug-in tools for your start page. For example, you could add an application that gives you a Wikipedia search box or shows the weather forecast for your local area.
Other tools include constantly updating departure boards for train services, driving direction calculators and currency converters. Google provides you with all the tools required to build your own gadgets at
Google Code
.
The process is straightforward.
Google Gadgets Editor
is a simple script-editing window with an XML framework already in place. All you have to do is replace the "Hello World" code placeholder with your own HTML.
For example, to create a gadget that searches the Internet Movie Database, you could navigate to the
IMDb's Help page
and copy the search form code from one of the examples given.
Return to Google Gadget Editor and paste the code between the CDATA brackets. Save the XML snippet and you'll then be given a URL for your new gadget.
Choose 'Publish' instead to add the code to your iGoogle page or add it to the iGoogle directory so others can use it.
What about DIY start pages?
If creating gadgets or widgets is so easy, why not build your own start page from scratch? While it's certainly possible, the simplicity offered by modern start page providers makes it a rather time consuming proposition in comparison.
For example, it requires a lot of code to embed a single RSS block in a web page, although there are off-the-shelf scripts that can help facilitate this and even some online services that generate the layout code for you.
Javascript RSS Block Viewer
generates cut-and- paste code you can plug into any site – static or dynamic. All you have to do is provide the RSS feed and choose a colour scheme.
If you need more control then
MagpieRSS
is a server side PHP script that parses RSS feeds.
Once the script is installed, you can add specific feeds to a page with as few as two lines – though it gets much more complex if you want to style headlines, titles and links separately or filter a feed using specific parameters.
Looking beyond the Google heartland
While these solutions simplify the task of adding RSS blocks to a page for a code-savvy developer, neither compares with the ease of adding bespoke blocks to a page in Netvibes or Protopage.
In addition, the current crop of start pages have features that your Heath Robinson version may struggle to compete with. Most services enable alternate layouts to be used and custom skins that change the look and feel of the page.
Netvibes, iGoogle and Pageflakes provide themes that let you change the overall look of the layout. You can also almost universally change the position of content blocks in your bespoke start page and create multiple, tabbed pages to organise different types of content.
For example, you could have a default front page full of news feeds, with tabs that take you to a page full of handy gadgets or blog content. Start pages help you get more from your web browsing by bringing together the information you access most often into one place.
The only drawback is that your choice might make content so easy to find that you'll spend even more time online.
The best start pages on the web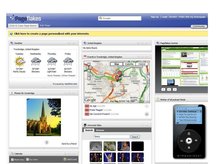 Pageflakes
- This site wins the award for getting your web experience personalised in the fastest time. You just make a few category selections and a page is created from scratch.
Slick and great looking, it's not quite as clever as you might hope, though. While your approximate location is estimated from your IP address and used to set a weather widget – the default news feeds are always from CNN and USA Today.
There's a lack of RSS search tools too. Create a free account and you can soon customise the site's defaults to suit your own preferences. Of the tools we've reviewed, Pageflakes has the fanciest features for browsing content.
Widgets and feeds are called 'Flakes' here and you can browse for them in a window that pops up in the main page. As well as private start pages, you can also make 'Pagecasts'. These are public versions of your private start page.
There are an impressive number of themes and layouts too. Our favourite feature though is PageFlake's built-in feed reader – a tool that behaves like a desktop RSS client.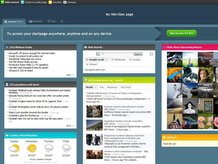 Netvibes
After a swift sign-up, Netvibes' distinctly Web 2.0 style layout is yours to populate and customise.
Three starter tabs offer up news feeds, access to social networks, webmail and some online games. Just a dozen alternate themes are provided – alongside custom headings called 'wallpaper'.We found that selecting some of these effectively hides the service's navigation tools, though.
There's an impressive selection of feeds, site gateways and applications that can be added to any page. RSS feeds can be added as direct URLs. Widgets are created using Netvibes' own Ecosystem platform, an XML-based framework for building mini-applications. Most users will find everything they'll need is offered by Netvibes from the start.
Currently, Netvibes is beta testing an expanded service, codenamed Netvibes Ginger. This enables you to share your start pages with other users – even adding content from other services like Facebook and Flickr. This brings the 'home page' analogy full circle.
iGoogle
Like most Google services, iGoogle's main selling point is apparent simplicity. The page offers customisable content blocks containing either RSS headlines or Google Gadgets. These are easy to organise using tabs and drag-and- drop enclosures.
While other start page products give you rounded corners and reflective colour schemes, iGoogle opts for plain, CSS-styled blocks with controls for closing, minimising or editing individual settings for each.
You can always change how many headlines are displayed in an RSS feed, while gadgets may have their own bespoke settings. Tabs are really easy to add with an 'Add Tab' link.
You can drag feeds and gadgets between tabs or add new content when a specific page is selected.
For us, the most attractive aspect of iGoogle is that it offers gadgets for other Google tools, enabling you to keep tabs on your mail, add events to Google Calendar or consult current documents – all without leaving your start page.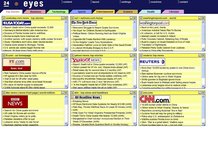 24 Eyes
24 Eyes feels like a start page for serious web users – but it's less personalised than other entries. While Pageflakes and Netvibes place ease of use and good looks up front, 24 Eyes is all about functionality – there are no themes or colour scheme tools.
So, while 24 Eyes isn't as pretty as its rivals, it does have functions like tagging, built-in RSS search (missing from Pageflakes) and public 'RSS dashboards' – which are start pages to you and me.
Uniquely, 24 Eyes doesn't require registration to start using. There are a series of ready-to-use dashboard tabs that you can edit or remove. Your changes are saved in cookies – so as long as you access the site in the same browser each time your alterations will stick.
Of course, this does mean that your start page isn't portable across platforms or accessible from your local web cafe. Still, there are localised versions for the US, UK, Germany and the Netherlands – so you don't necessarily have to start with a bunch of American content you have absolutely no interest in.
More...