Active Member
Premium Member
Joined

Jun 26, 2007
Messages

26,190
Reaction score

6
Points

38
Age

59
NTT DoCoMo
is Japan's market-leading mobile phone provider. And where DoCoMo excels is in its uncanny ability to stay ahead of the technology curve. Just look at the
mess
China has itself in as it struggles to introduce a 3G mobile network in time for this summer's Olympics.
While Beijing struggles to set up even a trial 3G network using its own TD-SCDMA standard, DoCoMo has had a commercial service called FOMA (using W-CDMA) in place since 2001.
Not only that, but it has concrete plans for the next step on the road already – Super 3G wireless networking with download speeds of up to 300Mbit/s.
Doing mobile communications
First, a quick backgrounder – DoCoMo, whose name comes from the slightly daft phrase 'Do Communications Over the Mobile Network,' was founded in 1991 and reported revenues of ¥4.7 trillion, or £23 billion last year.
That 53 million-strong cadre of customers represents 52 per cent of Japan's entire mobile phone market – next best is KDDI with 29 per cent, followed by Softbank Mobile on 18 per cent.
DoCoMo's success story began in earnest when it launched the i-mode-branded mobile internet service in 1999. Since then, not only have customer numbers been growing almost constantly, but so – significantly - has the company's reliance on income from data traffic.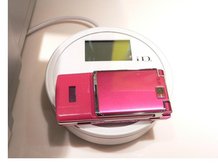 More recently, the introduction of the RFID-based
Osaifu Keitai
(Wallet Mobile) technology in 2004 has increased the importance of data fees to the company. Waqnt to know more? We've already covered Osaifu Keitai in our article:
The next big thing for your mobile phone
.
It's about the data
Moving forward to 2008, DoCoMo and its competitors are currently engaged in a fierce and costly battle to offer new handsets packed with everything from TV tuners to news tickers, barcode readers and plenty more just to appeal to a wavering, near-saturated market.
Consequently, customers like me have frequently been disappointed with phones that are plain unwieldy because of the amount of electronics they contain simply to keep up with the Joneses.
This is because leading wireless carriers like DoCoMo need to find ways to get customers using their phones for more than just talking and for longer periods. But the problem is, not every new bell and whistle generates profits, or even any income at all.
Which is precisely what the company explained to us when we visited for a briefing earlier this week. PR manager Shuichiro Ichikoshi told us, "Adding such extra services, like
1-seg
[the digital TV service tailored for mobile phones], is quite controversial, as it just costs us money.
"Also, it has a tendency to make phones bulkier, especially some of the big ones, such as Panasonic's recent
Viera phone
. But is possible to find a balance if makers build them with lower-resolution screens. Still, we're always looking for a way to monetise these 'lifestyle' services."
And there, from the horse's mouth, is the core of the problem facing all modern carriers struggling to maintain the bottom line – so-called lifestyle services. But what are they going to be, if TV and the like aren't bringing home the bacon?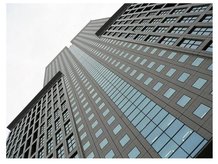 The Japanese future imperfect
To answer that question, DoCoMo's crack squad of powder-blue-suited spokesmodels ushered us off to see the company's vision of the future in a specially constructed facility on the 29th floor of a Tokyo skyscraper.
First stop was a mini cinema showing two of those 'vision of the future' corporate films that tend to have precisely the wrong effect. These didn't disappoint. You can
watch them
yourself.
DoCoMo's vision of the year 201X centres on an unnaturally cheery boy with a broken foot who appears to interact with his parents mostly by remote video-conferencing. He talks to his doctor via a rehab robot that checks on his ailing leg and beams data back to a hospital, somewhere unknown.
Once better, young Hiroki Tanigawa, gets to travel to the airport for a solo flight, accompanied only by an intelligent wireless device strung round his neck. The 'Kids' Concierge' keeps him on the straight and narrow and even reminds him to do a little airport shopping.
Nightmare Orwellian vision?
Maybe we're being cynical, but it all sounds Orwellian, rather than Utopian. Nevertheless, NTT DoCoMo's videos do outline a clear vision.
The message revolves around networking – that beaming large amounts of data around some kind of personal or family network, instead of relying on simple voice calls, is where things are headed.
That's one possible vision of the future – what about the technology companies like DoCoMo will almost certainly bring to the West more imminently?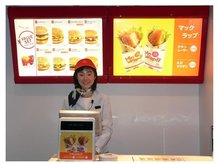 To demonstrate, next stop was a dummy McDonald's counter – we got to order a Big Mac and pay for it not using boring old e-cash, but with DoCoMo's phone-bound credit card called
DCMX
.
Using the same RFID chip as Osaifu Keitai, DCMX purchases end up on next month's phone bill, so there's no need to charge the chip up with cash. Should you prefer to pay now, there's always the option to do, such as we did at the real Coca Cola vending machine in the same showroom.
As we
recently reported
, FeliCa, the base technology behind RFID phones and the like is already spreading to the US, so it's nailed on that similar phone-based payment options will go global.
But it's DoCoMo's next project that really intrigues...
Feeding the dog of the future
The final stop on the tour was a mock-up of a living room of the future. Naturally, you enter using a wrist-mounted wireless terminal (what else?) that doubles as an identity checker.
Once inside, everything from feeding the dog to setting the floor-cleaning robot in motion happens through instructions barked at the wrist device. Then things get decidedly
Minority Report
.
Again an example of the value of finding more ways to use wireless data, the most impressive demo of the day saw us don 3D glasses and step into an immersive representation of ancient Tokyo.
Virtual Edo, as it's called, allows visitors to walk around and explore the old city, which is painted on the walls and floor by a high-definition projector. Although slightly hard on the eyes, we were clearly able to find our way to an art shop.
Inside, a selection of scrolls on the wall can be examined using a gesture interface that draws them forward in 3D or moves on to the next set of artworks.
As you might have guessed, all this data arrives courtesy of DoCoMo's theoretical high-speed network, with commands and transaction information flowing back the other way. Yes – we were even able to buy the scrolls and have them downloaded to that wrist dongle. (It has a projector for beaming your art onto a wall or table, by the way.)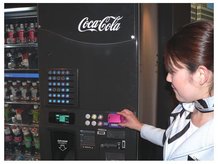 E-commerce is (or will be) everything
The point of all this talk of data traffic and e-commerce should illuminate the reason why phone companies are continually planning to build faster and faster networks. After all, it might not seem particularly useful to have high-speed downloads on current phones with their relatively limiting screens.
Back to DoCoMo's Shuichiro Ichikoshi: "When we were building FOMA, we were like a construction company – installing masts everywhere. Now, however, we can add a software upgrade to it and use that network for the next stage, Super 3G. In fact, we'll have it ready by 2009 or 2010."
In other words, the mobile bandwidth to facilitate the scenarios we described above should be here (in Japan, anyway) within a couple of years.
And DoCoMo's talk of Super 3G is not the measly 7.2Mbit/s of current HSPA connections. Instead, the company is ready to roll out wireless downloads at up to 300Mbit/s, with uploads at 80Mbit/s. Even fibre-optic connections can't compete with that.
Better still – if you're hesitating over that ticket to Japan – a 4G network running in Gigabit territory won't be more than a year or two behind it. Just remember to pack your credit card and prepare for some serious retail therapy.
We've seen the future.
More...