Active Member
Premium Member
Joined

Jun 26, 2007
Messages

26,190
Reaction score

6
Points

38
Age

60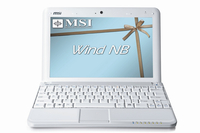 The laptop market has been absolutely turned on its head in the last 12 months.
It used to be all about how much power you could fit into a small form factor.
And yet, in the year that Alienware has unleashed its frighteningly quick Area-51 m15x gaming laptop, all anyone wants to talk about is the latest low-end Eee PC rival to have broken the £300 barrier.
The first Eee PC was available for around £200, which was largely why it sold so unbelievable well.
But unfortunately for us, it seems that the more competitors the Asus Eee PC gets, the higher the prices seem to creep up. That's symptomatic of two things.
Firstly, with a lot more competition out there, there's just not enough money in the extreme low-end sub-£200 notebook market – the margins are too small. That's why even Asus has pushed the price up for the Eee PC 900.
And secondly, with the vast majority of folks expecting their notebooks to run Windows XP, and run it well, that pushes up the system requirements and thus the spec and price.
But even so, there are some fantastic buying options out there. Here are six great ultra-portable notebooks available now, and three more to watch out for in the coming months.
*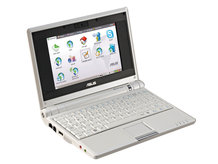 This is the one that kicked it all off. The original Eee PC model which was only available running Linux.
Roughly the size of a hardback book, the Eee PC is portable and easy to carry around.
However, what struck us first was the build quality.
Despite being made from plastic, it's tough and robust and certainly stands up to the occasional drop.
With a 2GB Solid State Drive (SSD), there are no moving parts, which also helps the robust nature of the unit. This limits the number of files you can store, but it will comfortably accommodate the OS and all your major files.
The 7-inch screen uses LED backlight technology, which is cheaper than a standard TFT panel and, apart from helping keep the cost down, means it is brighter than many of its peers too.
But crucially, the greatest thing about this product is the price. It's now available for less than £200, which is an absolute bargain. Read our full review
*
*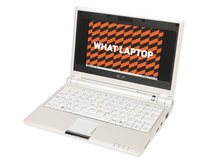 Slightly more expensive than the 2G model, the 701 was slightly better specified.
But it offers enough to justify the extra money.
Its processor is clocked slightly higher, as is the 512MB of RAM which is also upgradeable in this model.
If you prefer to use Windows over the included Linux-based OS, Asus includes instructions for installing Windows XP. It's nowhere near powerful enough to handle Windows Vista.
We found it a relatively easy process to follow and install and, while it works fine, it does tend to run a good deal slower. So if you can get along with Linux, it's probably best to stick with that.
There's also more storage in this model – 4GB instead of 2GB, and the battery is better too.
It's not without its flaws, as the lack of storage space can be inconvenient at times.
The unit also grows warm to the touch, but these are minor niggles over what is a fantastic piece of kit.
Asus has managed to design a low-cost laptop that, if you need to have a simple word processor and internet surfer with you while you travel, is about as impressive as it gets. Read our full review
*
*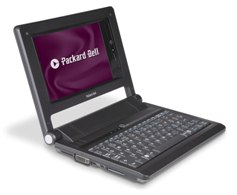 Unlike Asus, who designed its Eee machine from scratch, the Packard Bell EasyNote XS uses a reference design compiled by chip manufacturer VIA.
This allows manufacturers to bring a device to market much more quickly.
The design is reassuringly sturdy, with a thick plastic casing that feels solid to the touch.
The 7-inch screen stands on extended hinges, so a larger battery pack can be fitted, but it raises the screen so the user has a better line-of-sight.
The screen is a TFT panel that is impressively bright without casting too many reflections. The screen doesn't fill the whole lid, as Packard Bell has rather wisely kept the chassis larger than the screen dimensions, so that a larger keyboard can be fitted.
Considering the size, connectivity is excellent with two USB ports and a DVI-out.
It's also got support for fixed and wireless networks. When using the XS we never felt as though we were missing out on any essential connections.
The Packard Bell EasyNote XS is a good buy for those who need a compact machine with a quality keyboard and Windows XP. Read our full review
*
*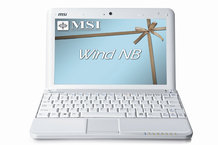 To support the thriving ultra-portable market, Intel has this week released its new Atom processor.
It's designed specifically for such laptops and the MSI Wind 100 is the first machine we've seen sporting the new chip.
In style, the Wind takes many of its designs queues from the Eee PC.
It's made from white plastic - a black version will ship in July - with a 3-cell battery taking up the back of the unit.
It feels great in the hand and is certainly tough enough to carry around on a regular basis.
Weighing 1kg, its weight is nicely balanced, especially considering the use of a 10-inch Super-TFT screen that has a native resolution of 1024 x 600 pixels.
Images look great and even when running on battery power it looked sharp. The screen sits on hinges that make the screen cover the back of the unit, giving a slightly low line of sight.
Overall, the MSI Wind U100 is an impressive entry-level laptop. We never once felt as though compromises had been made.
It won't suit anyone looking for a powerhouse portable but if your needs are basic, writing emails and using the internet, or a word processor for the commute, this is as good as it currently gets. Read our full review
*
*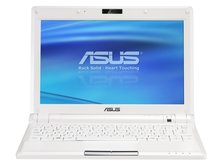 The amazing thing about the original Eee is the combination of portability, style and price: it looks good, it's tiny and you get all this for little outlay.
It was designed to provide the functionality that people need when they're on the move, such as Web browsing, email, office applications, VoIP and whatnot.
The size and the price are kept low by using a basic hardware specification.
The original Eee struck a good balance between hardware and cost. The new Eee PC 900 has adjusted the priorities to create an offering that gives you a beefier machine at less of a bargain price.
The first thing you notice about the Eee PC 900 is the larger screen, which is 8.9-inch instead of 7-inch
It also has a native resolution of 1,024 x 600. Gone is the thick bezel of the earlier Eee PC 701, and the extra space is an enormous improvement. Everything fits nicely on the larger viewing area.
Usability is further boosted by a larger track pad that supports two-finger scrolling (just place two fingers on the sensor and draw them up and down).
The speakers have been moved to the underside of the unit to accommodate the screen, and the chassis is marginally larger. Still, the weight remains below a kilogram.
The RAM goes from 512MB to 1,024MB in the 900 model, and there's also an increase in storage capacity.
What's more, there are two versions of the Eee PC 900; a Linux one and a Windows XP version.
To keep the price the same on both models, Asus has given 12GB of storage space to the Windows XP version and 20GB to the Linux version (Linux is free, whereas a licence fee is payable for Windows).
The 12GB is made up of 4GB onboard memory and an 8GB flash module that goes in the card reader.
There's no doubt about it, the Eee PC 900 Win is a fabulous little machine. But at £329, the bargain factor is seriously diminished. Read our full review
*
*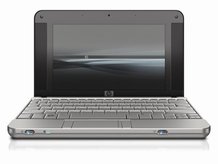 No ultra-portable since the original Eee PC has been greeted with quite such excitement as HP's offering; the 2133 Mini-Note.
The company insists that the Mini-Note has been designed primarily for education, but clearly there's more about this little machine than just schoolwork.
Take the curvaceous magnesium alloy shell, the near full-sized keyboard or the stunning high-resolution glossy screen.
In order to bring the product to market as soon as possible, HP has opted to use VIA's single-core C7-M processor; a processor family as sluggish as it is dated.
The UK seems to have been dealt a poor hand with the Mini-Note; while US buyers can choose from a number of customised editions, our choice is simply 'Linux' or 'Windows Vista'.
For us Brits, there's very little reason to opt for the latter; the processor is the same paltry 1.2 GHz chip as the Linux version, with no sign of the 1.6 GHz model in the UK.
The UK editions are still very capable sub-notebooks, but as upstanding British citizens, we can't help but feel a little cheated. Read our full review
*
*
*
Everex CloudBook
We first glimpsed the Everex CloudBook at CES. It'll go on sale for around £200 and so is directly comparable to our Eee friend.
It's based on a VIA reference design, uses its 1.2GHz C7-M ultra low voltage processor and promises five hours of battery life – significantly more than the Eee PC.
What's more, there's also 30GB of internal storage and 512MB of DDR2; nice specs there. Like the initial Eee, it supports Linux. 802.11b/g Wi-Fi is also on board – but what's up with that weird raised screen.
Acer Aspire One
The Aspire One looks like a formidable prospect, especially given its £199 price point for the 8GB Linux version with 512MB of RAM.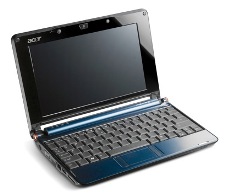 Acer has engineered a bespoke interface, rather like Asus' for the Eee PC.
Open Office is offered, as is a Messaging app that can handle MSN/Windows Live, AIM, Yahoo and Google Talk.
Likewise an integrated email app can handle various accounts including Google Mail, but not Hotmail.
This one will make an impression on the market, that's for sure.
The £199 Linux offering is impressive and pound-for-pound the XP version is better value than the MSI Wind.
Acer clearly wants to make an impact – the company will hope the Atom will give the Aspire One the springboard it needs.
Dell Mini Inspiron.
It was leaked on the Dell blog earlier in the week and should be officially unmasked at Computex any day now.
The machine is currently rumoured to feature an 8.9in screen, an Intel Atom processor and choice of XP or Linux Ubuntu operating systems.
It also seems the machine will have three USB ports, an SD card reader, VGA output, and Ethernet connections.
Dell is clearly going up against the Asus Eee, MSI Wind and HP Mini Note in the burgeoning budget sub-laptop market.
Elonex One
The One's best facet has to be its price – a mere £99.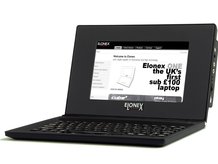 If you've a long-standing awareness of IT you might be aware of Elonex as a UK-based business PC provider and latterly for its LCD TV-based range of Lumina Media Centers several years back.
Meant for education and designed with UK Government initiatives in mind, the laptop was shown off at this year's Education Show which took place in Birmingham at the beginning of the month.
The Linux-based sub-notebook has a 7-inch display, 802.11b/g wireless, 1GB of memory, four-hour battery life and even an optional rubberised skin.
What more could you want?
More...