Active Member
Premium Member
Joined

Jun 26, 2007
Messages

26,190
Reaction score

6
Points

38
Age

60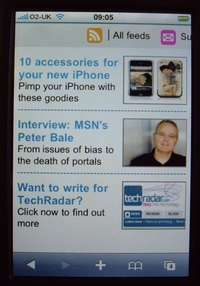 If you're the lucky owner of a new iPhone 3G, there's a good chance that you won't have read the manual that came with it. I know I didn't. The temptation to jump right in, to touch this and pinch that, is way too strong. But there are some tips and tricks that make using the iPhone much easier.
Master the double-tap
One of the 'impress your friends' features of the iPhone is your ability to 'pinch' the screen to zoom in and out. In the long run, however, this isn't the most effective way to read a web page or magnify a Google Map. Instead, you need to master the double-tap.
On a typical website, double-tap a column of text to zoom right into it - the iPhone will zoom the view to fit the width of the screen. Double-tap the screen again to zoom back out.
Similarly, double-tapping a picture will automatically focus in to show a close-up. Again, this auto-zoom will fit the width of the iPhone's screen.
The double-tap can also zoom in/out on photos in the iPhone's Photo app and toggle between full screen and letterbox mode during video playback. A double-tap is also the easiest way to incrementally zoom into a section of a Google Map.
Tapping two fingers on the screen (I.e. first and index finger) will zoom back out the same way.
Save power
There's been a lot of talk about the iPhone's battery life. Unsurprisingly, using the 3G, Wi-Fi, GPS and iPod functions will use up a lot of juice. You can minimise the drain in several ways.
For starters, you can actually turn off 3G (in Settings - General - Network) and force the iPhone to regress to its 2G/2.5G origins. Similarly, Wi-Fi can be disabled until you really need it (via Settings - Wi-Fi). You should only need Bluetooth active if you're using a wireless headset.
You can also manually select the screen brightness (overriding the auto-brightness setting). You'll find that option in Settings - Brightness.
How to reset your iPhone
If your iPhone should freeze for any reason and doesn't respond to screen taps or button presses, it probably indicates that the application you're running has crashed.
There are two fixes. First, hold down the Home button for 5-6 seconds to force quit a crashed application. If that doesn't work, you can force a full shut down of your iPhone by holding down the Home and Sleep/Wake button.
Rearrange your applications
The iPhone doesn't just have one home screen - it can be configured to have a number of virtual pages, that you can flick through like the pages of a book. The ability to rearrange the iPhone's applications was introduced in a previous firmware upgrade.
To move an application icon, simply hold your finger down on an icon. The icons will then enter a 'wiggle mode', I.e. they'll start to wiggle. You can then drag them around or move them to another home screen page.
Set up favourite contacts
You can set up a quick-dial list of favourite contacts easily by opening a contact (in Phone - Contacts) and choosing the 'Add to Favorites' (sic) option.
For quick access to this list, you can typically double-click the Home button. If this doesn't work, configure the Home button settings in Settings - General - Home Button.
Use other applications while on a call
Did you know that you can access the iPhone's main screen (and all of its applications) while you are on a call? Press the Home button during a phone call to minimise the call screen.
You can then access your email, Notes, Contacts and browse web (only if connected by Wi-Fi). Tap the green bar at the top of the Home screen to return to the call.
Divert a call to voicemail
Easy. Press the Sleep/Wake button on the top-edge of your iPhone.
Handy keyboard shortcuts
The iPhone's keyboard takes some getting used to. You might start off as a slow, one-fingered typist, but ultimately you'll be able to knock out notes, emails and texts with surprising speed and accuracy.
Your greatest ally in this regard is the iPhone's auto-complete function and integrated dictionary. The iPhone monitors what you type and will suggest potential words as you type them. To discard a suggestion, tap the suggested word.
There are other handy keyboard shortcuts worth noting. For example, holding your finger over an area of text will activate the keyboard's magnifying glass, enabling you to easily position the cursor within a word.
Also, if you hold your finger down on a letter key, the virtual keyboard will show a pop-up of alternative letters - I.e. press your finger on 'E' to see a pop-up containing 'È', 'É', 'Ê', 'Ë' and 'Ȩ'.
Finally, you can also double-tap the SHIFT key to enable a CAPS LOCK mode (it turns blue). This isn't enabled by default, however. You'll find the option in Settings - General - Keyboard.
Change iPod playback options
You can change the playback options in the iPhone's iPod mode by tapping on the track being played - this will allow you to switch between normal play, repeat all and repeat current track.
Skip tracks while listening via headphones
I missed this functionality when I first had my iPhone. You probably know that the microphone capsule on the iPhone's headphones can be clicked to start/stop music playback. But if you quickly double-click the capsule, you can skip through a playlist without having to get your iPhone out of your pocket.
Better Web browsing in Safari
There a number of things that you can do to speed up web browsing on the iPhone. For example, if you press your finger on a web link, a grey bubble will pop up showing the link URL.
Applications on the iPhone are also beautifully interlinked - tap on a phone number on a web page to call it, tap on an email address to jump to the mail program, tap on an address to find it on Google Maps.
Did you also know that you can tap the status bar (showing the time, battery indicator, etc.) at the top of the screen to scroll back to the top of a page?
Or that you can type a .com address without typing .com? Or the www? For example, just type 'techradar' into the browser's URL field to go to TechRadar.com.
Finally, you might also find it useful to set up RSS subscriptions/bookmarks to sites that display full articles their feeds. RSS loads quickly, reducing the load on your 3G connection and speeding up web access if you're out of coverage and using EDGE or GPRS.
Delete emails with a swipe
It's a little known fact that you can quickly delete a message by swiping your across it from left to right.
Turn off data roaming
If you're a regular traveller, don't forget to turn off data roaming when travelling abroad. O2's iPhone tariffs only include unlimited data access in the UK. You'll find it in Settings - General - Network.
The secret screen capture mode
Hold down the Home button with one hand and then press the Sleep/Wake button with the other. With any luck, this will snap a picture of the screen and save it in your Camera Roll (Photos - Camera Roll).
Got any more useful tips for new iPhone users? Drop us a line by email or leave us a comment below.
More...