Joined

Sep 26, 2017
Messages

3
Reaction score

0
Points

1
Age

41
My Satellite Setup

Various old sky+ boxes, sky mini dish.
My Location

South Yorkshire
Hi everyone I'm a newbie to this site so firstly thank you for any/all replies secondly sorry for quite long post, just trying to make sure you guys have all the info you need to help, your help is massively appreciated.
I'm seeking advise for a suggested install, we are in the process of having our house re-wired so are taking the opportunity to install various other cables e.g networking,CCTV, TV etc my original plan was to have 2 cables (TV) to each room and connect this via a splitter box in the loft and twin wall plates in each room. I'm attempting to future proof as much as possible so thought of installing cable for satellite too. To do this I was going to get an octo lnb and run those cables as well 4 cables per room in total 2 TV 2 satellite.
After a bit more reading I came across multiswitch's my understanding is that I can feed this with FM/DAB/TV and Satellite feeds and run a single cable to each room and split the signal in the room with a triplexer wall plate. From reading around it appears that each break in the cable after being connected to the aerial introduces an amount of loss in signal with that in mind and whilst the scaffolding is still up my thoughts are to replace our current aerial a mini log periodic (8db) with a 36 element log periodic (12db) aerial and incorporate a variable masthead amplifier albeit set low the idea being that this can be adjusted by ladder if needed in the future. My question is really this from the diagrams/coverage information do you think this is the right way to connect everything up? should I swap the aerials and/or does anyone have any advice to improve this or any alternative ways of achieving this and does anyone one have any explanation of signal/db i assumed that 8db was twice as good as 4db but from reading online this does not appear to be the case, can anyone explain this in simple terms?
I've included my results from
www.digitaluk.co.uk's
coverage checker and wolfsbane.net's reception predictor as well as my connection diagram.
My parts list for the equipment I was going to use is below:
All cable to be web WF100
TV aerial: vision V10-36L
Multiswitch: 5 x 16 Optima Quad/Quattro
Masthead amp: Wolsey wfav25
Triplexer: Vision V24-3160) (FM/DAB/UHF).
Quadplex wall plate: to match new electric sockets switches when installed.
digitaluk.co.uk results: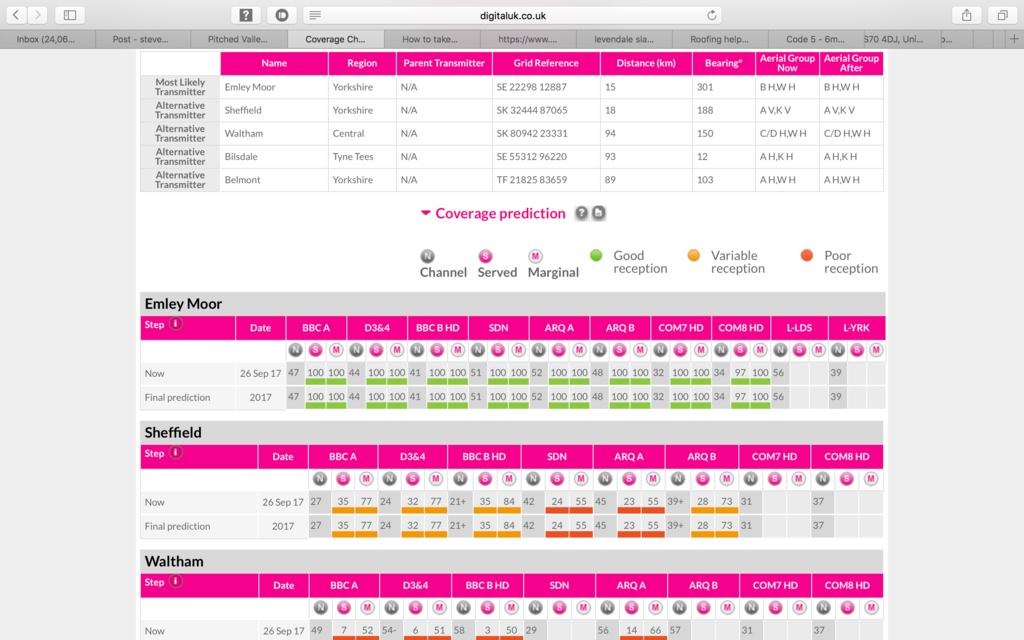 wolfsbane results: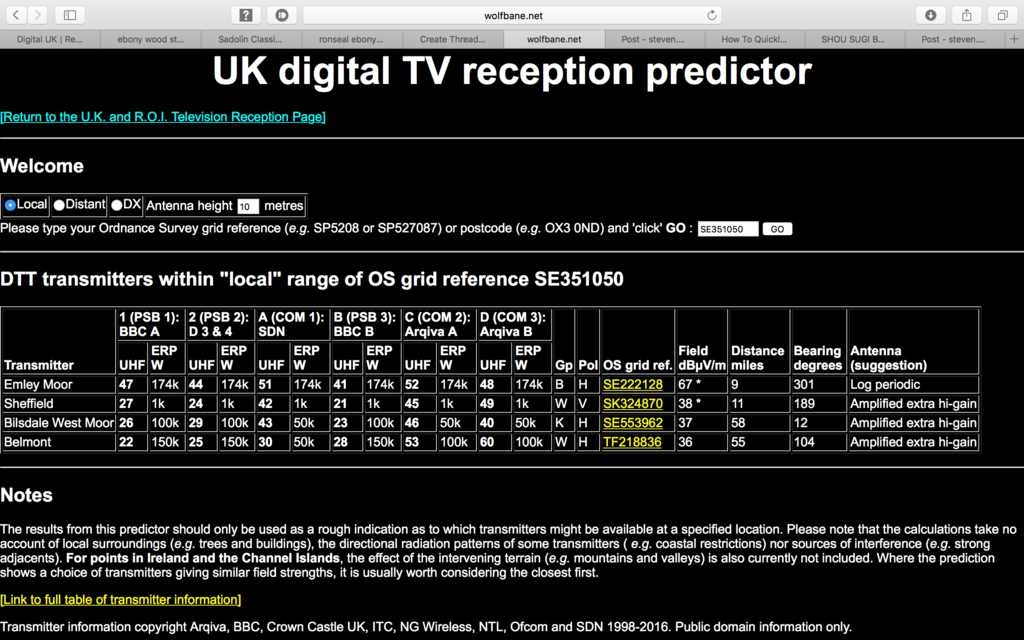 Diagram:
Once again many thanks for taking the time to read this post and any replies you make.